Vole Control | Vole Bait Stations - Get Rid of Voles
No front page content has been created yet.
Vole Control Bait Stations
4 STEPS TO VOLE CONTROL
Using the Vole Control Bait Station System
WHAT ARE VOLES &
When Are They a Problem?
Often confused with moles, a vole is a small outdoor rodent, closely related to the mouse. They do not hibernate, breed prolifically and live in colonies underground. Natural foragers, when they take up residence in a yard, they can quickly destroy a prized lawn or landscape costing homeowners thousands of dollars. Weakened, unhealthy plants that are susceptible to disease may actually be a sign of vole activity. Oftentimes, their presence is not realized until spring when snow melts revealing runways in the grass or damage to the base of trees (girdling), or when well-loved perennials mysteriously fail to emerge.
THE SOLUTION TO THE VOLE PROBLEM!
Since 2004, thousands of homeowners have taken back their yards with The Vole Control Bait Station System! Developed by a landscape professional, it is a systematic and effective approach to control all vole types. Skip the ineffective products and the expensive pest-control company and choose the product that does the job!
WHY ARE THESE METHODS INEFFECTIVE?
There are a variety of ways people have tried to get rid of voles, but each has flaws.
Vole Traps
Snap traps typically can't keep up with the vole reproduction rate. You also have to deal with removing dead voles.
Vole Repellents
Repellents wash away with rain, making reapplication a constant process. Voles are unlikely to leave their home territory, but may move to a different part of your yard.
Noise Makers & Vibrators
Although there are many on the market, these are not proven effective in controlled university studies.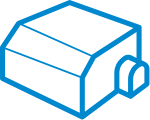 Other Bait Stations
Unlike The Vole Control Bait Station System, other bait stations are designed for a variety of pests and not specifically for the behavior and activity of voles.